This whole Christmas and Freedom of Expression issue continues to provoke debate. Please read
suzie's post on the Hanging of Santa
.
Here is my comment on her post:
Well, it is freedom of expression, but so is pornography which we have deemed unsuitable for children. People should be more sensitive on BOTH sides of that issue. A gagged (blindfolded, actually, but same difference) and hanging Santa could be considered harmful to children in the same way that certain books, films, games, etc. are. How are parents supposed to protect their children from violent displays if there are no regulations? Yes, we have Freedom of Speech, but it is regulated to protect certain groups. There are laws about not placing Adult stores, liquor stores, etc. within certain proximity to Schools, Day Cares, Churches, etc.

As for paint color and grass height, there are MANY neighborhood associations that regulate those things and fine homeowners for violations.

I have never seen a Halloween lawn display that is this gruesome/offensive. Not that there haven't been somewhere, but most people are more considerate of others than to do that. When exercising our Freedom of Expression we HAVE to be more considerate of other people, esp. children.

If my neighbor did this I'd go over and ask him nicely to take it down because it is too violent for my kids. Do you think that most cities would allow a billboard with this picture on it?
Again, I find it ironic that it's the same people who find this offensive (borrowed
kristi's link
to this picture- I'm not picking on kristi here)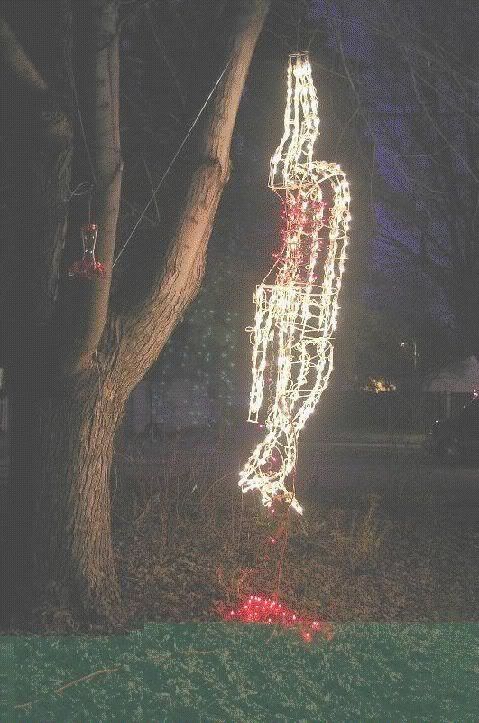 but not this (borrowed suzie's picture)
who are the first to cite First Amendment rights of free expression to defend their offensive actions. The Freedom of Expression is not a free pass to say or do anything you want regardless of the consequences.
Would we tolerate a person passing out pictures to our children with this image? Do the people who have no problem with the Hanging Santa have a problem with pictures of aborted babies that protestors carry around? Do people not care about how things affect children?